John's Case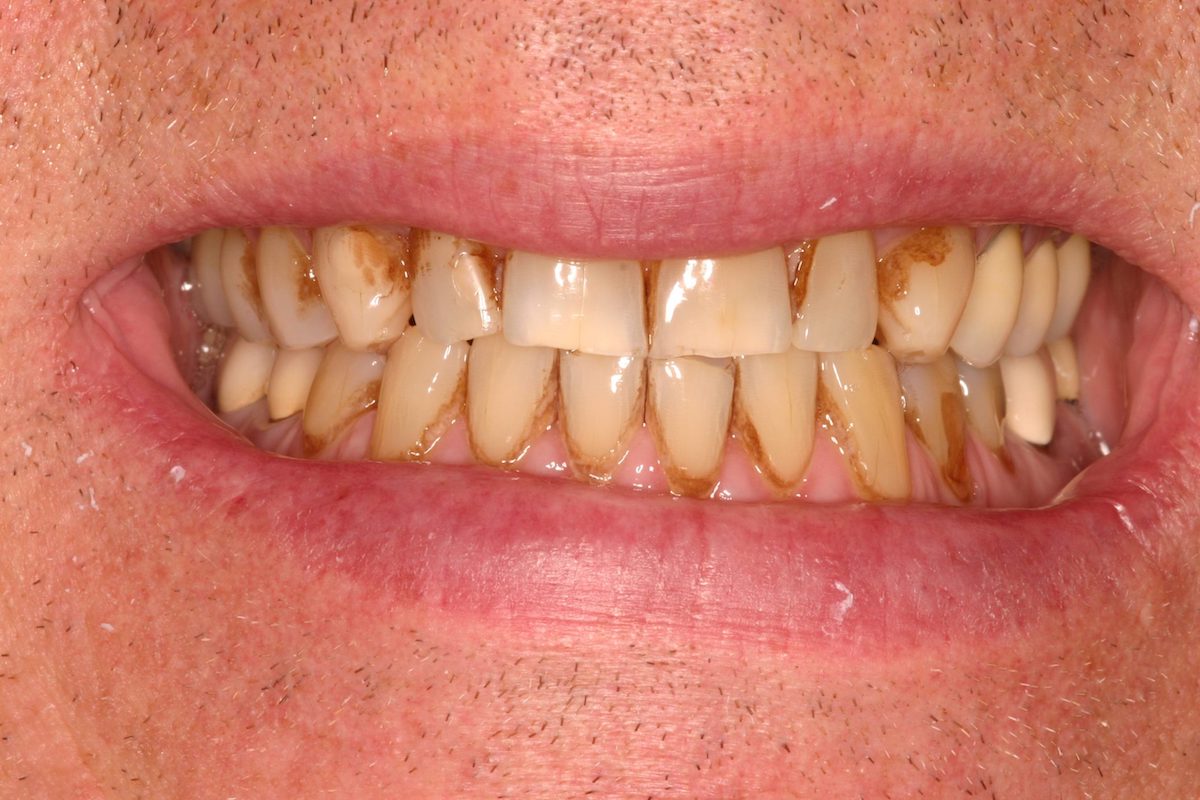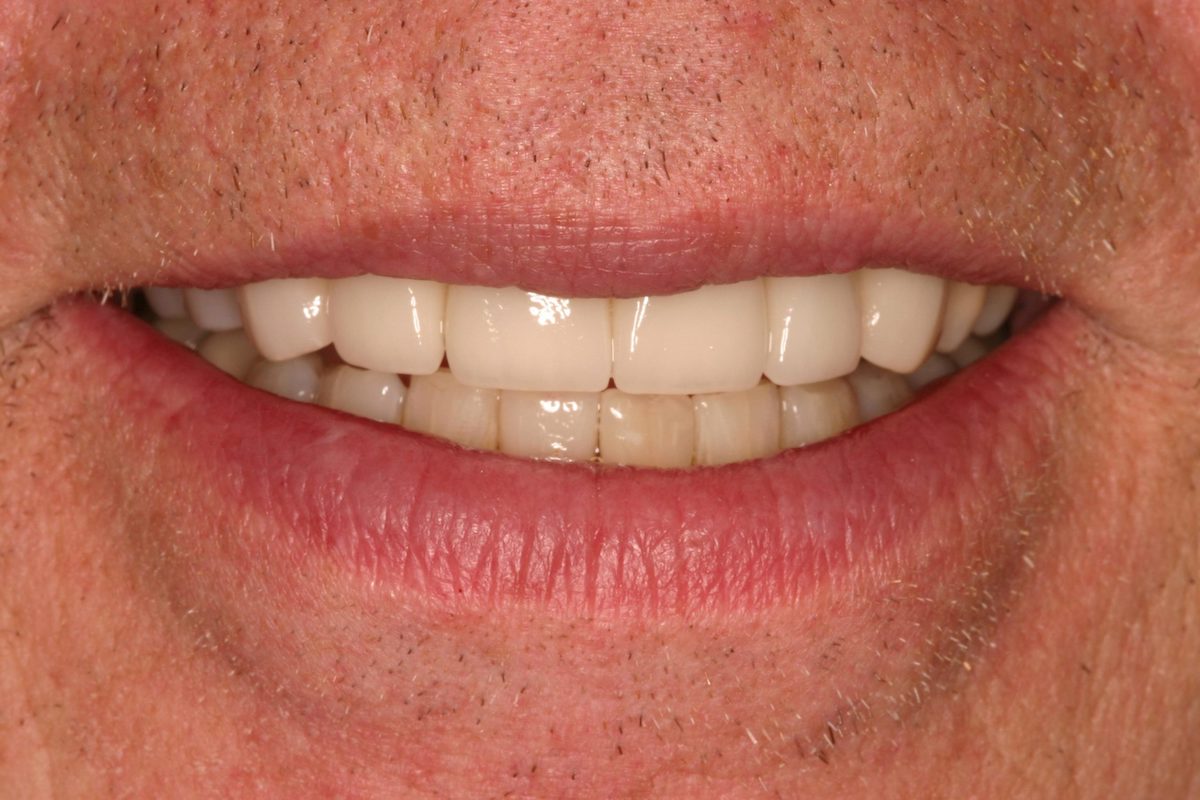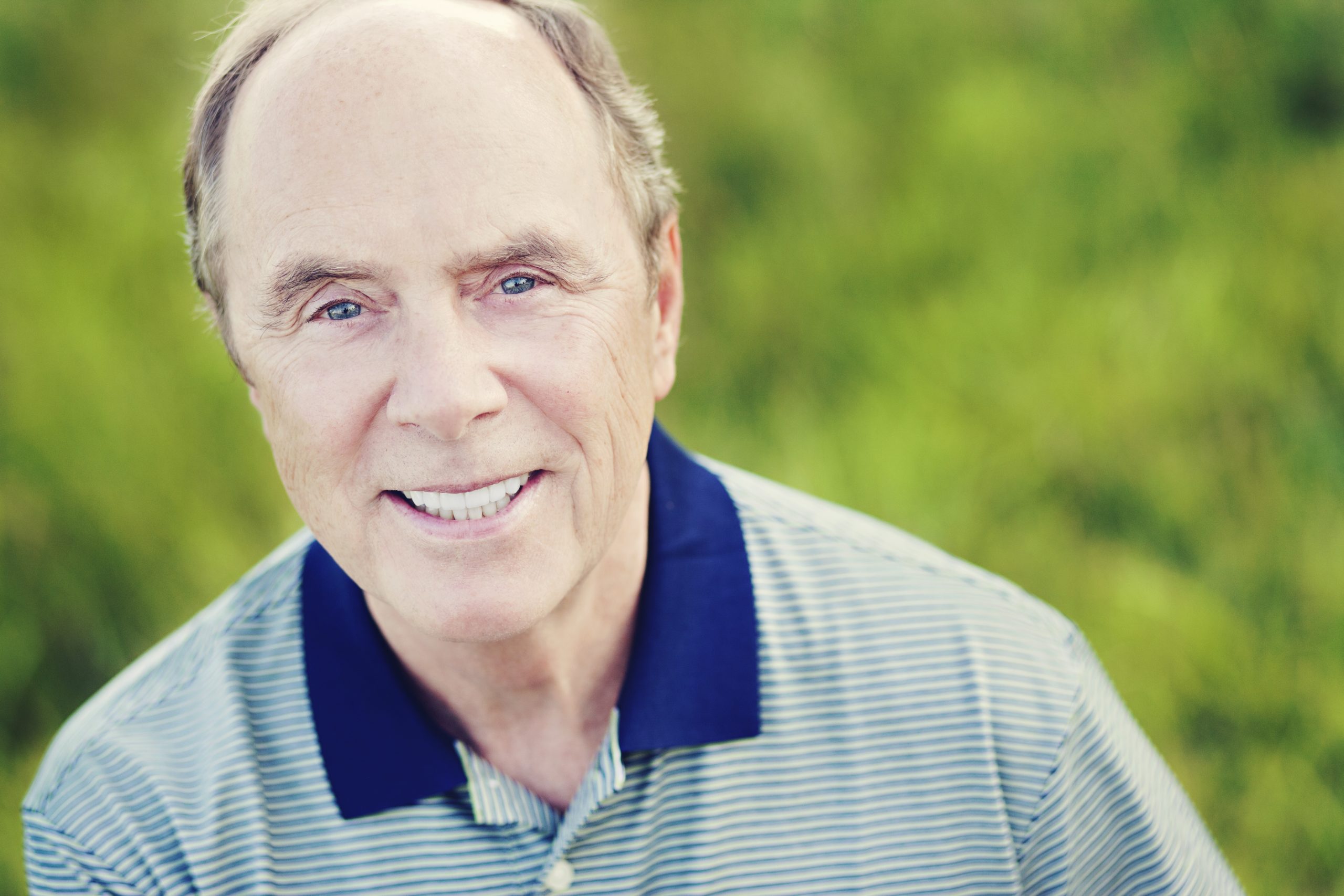 Our family has been cared for at Flatrock Family Dentistry for twenty-two years. We have never looked back to consider any alternative; we can trust that Dr. Rouse, his partner and staff, give us the thorough and attentive care we need. Over time we have observed Flatrock's continued investment in new technologies and processes to yield increasingly better results.
About ten years ago Dr. Rouse explained that I had a bit of an issue with my bite and front part of my teeth.
My upper and lower teeth aligned exactly on each other; my front teeth carried a risk of structural damage due to grinding during sleep and additional stresses. Despite whitening treatments my teeth were discolored. Dr. Rouse explained he could improve my teeth by applying dental veneers to my front teeth, and to re-shape them to create a slight, natural overbite. The veneers on the implants would provide a fresh look, compared to the somewhat aged and stressed appearance they had at the time. I had not needed braces in my youth; however, my smile would be enhanced as the veneers would be sized, shaped, spaced, and apportioned with symmetry and in a color range to match the rest of my teeth.
I went ahead with the treatment plan and was amazed at the results. I now have a properly aligned bite and a very confident smile. This was one of the best investments I ever made. Dr. Rouse was especially proud of his work, and each time he checks my teeth it reminds him of the great job he did for me. Since the time of the treatment I have learned how to sleep with a mouth guard, and after ten years my teeth look as great now as they did immediately after the work.
Julie's Case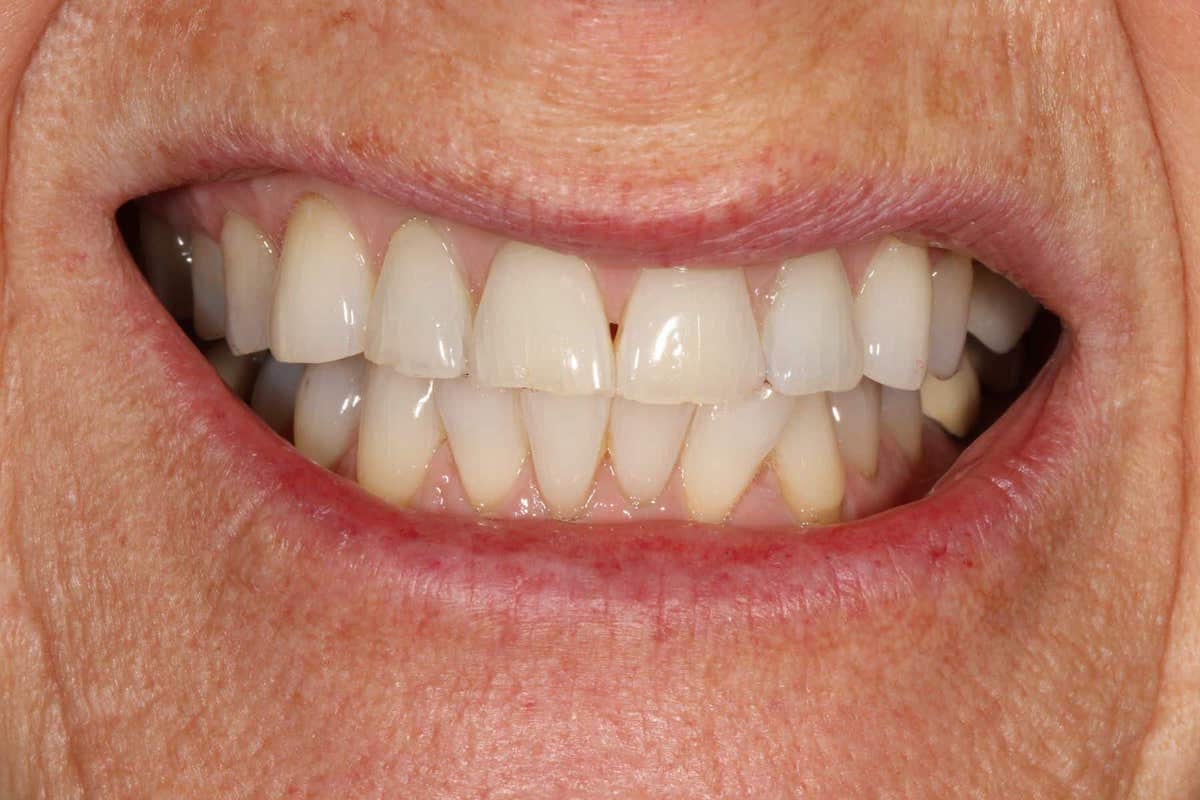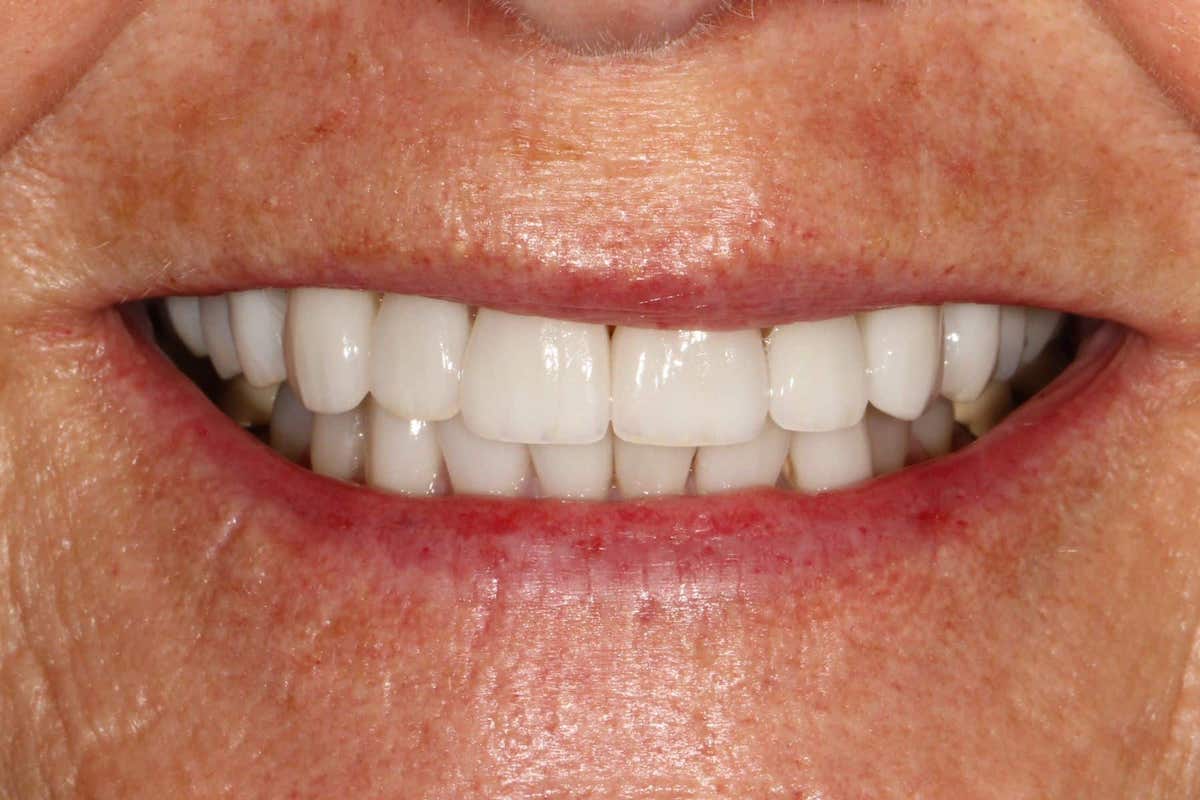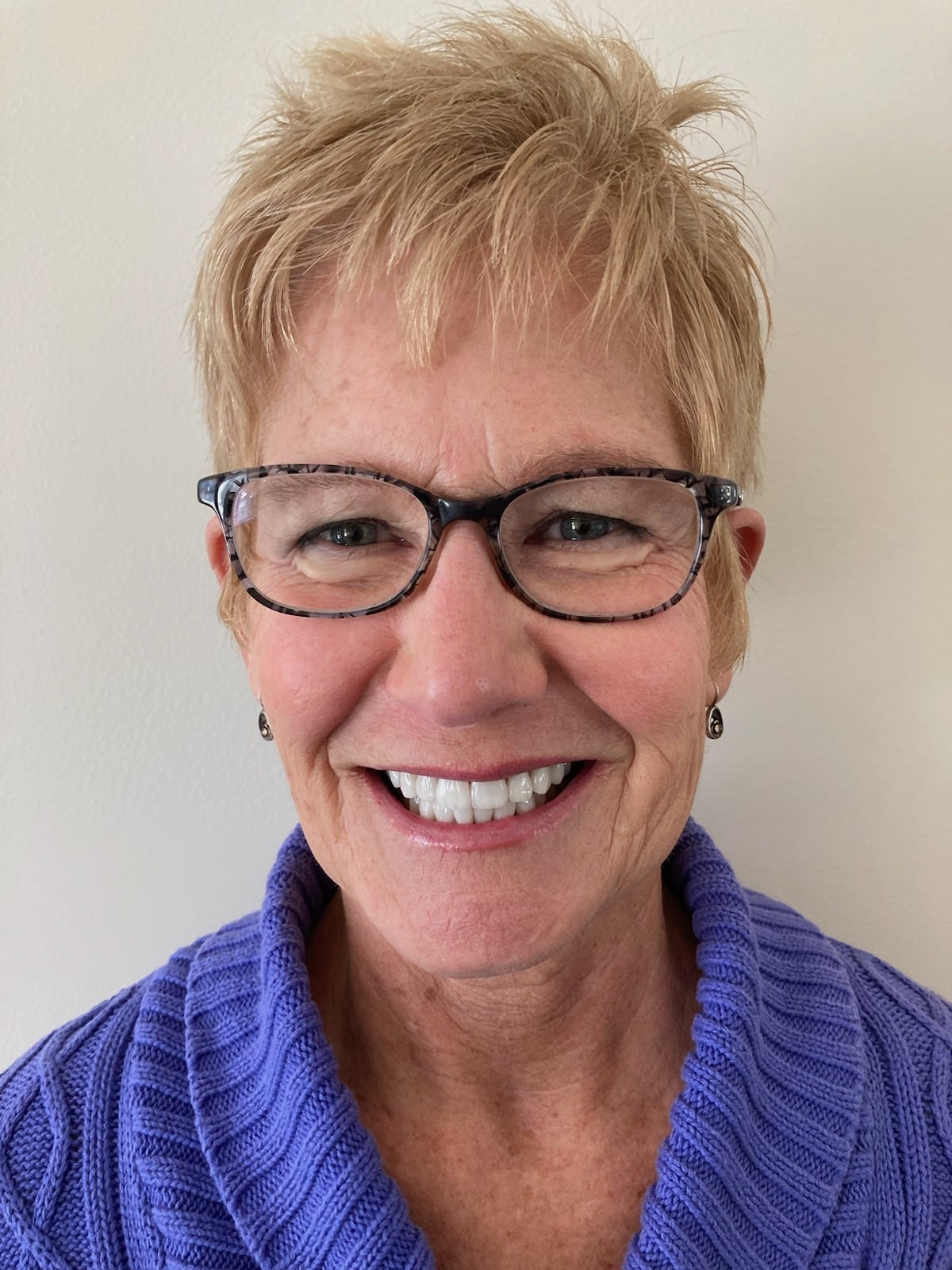 Having recently completed a series of treatments to meet my dental health goals, I am happy to report that the process was well worth the end results. A full smile is now within my capabilities. I was previously restricted due to uneven spacing and heavy grinding. The grinding had removed tooth length, enamel, and fractured teeth. But by way of an extraction and an implant, crown repairs, realignment, whitening and overlays, I have the confidence to smile again, thanks to Dr. Rouse and the Flatrock team.
A detailed treatment plan was proposed including costs from which I selected the entire process with the option to rereview at each step. My approach was to get the investment done right and not haphazardly. Why invest partially and not get your desired results?
I was not a raving fan of dental offices and procedures in the past, but everyone on the Flatrock team made each step of the process extremely comfortable. I would highly recommend Flatrock Family Dentistry whether it be for your regular cleaning and exam or a full customized process to regain your smile. You will not be disappointed.
Thank you Dr. Rouse and the Flatrock Family Dentistry team!
Nga's Case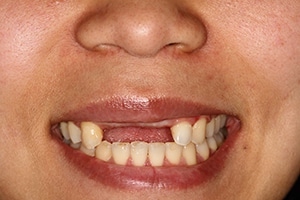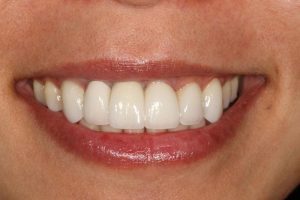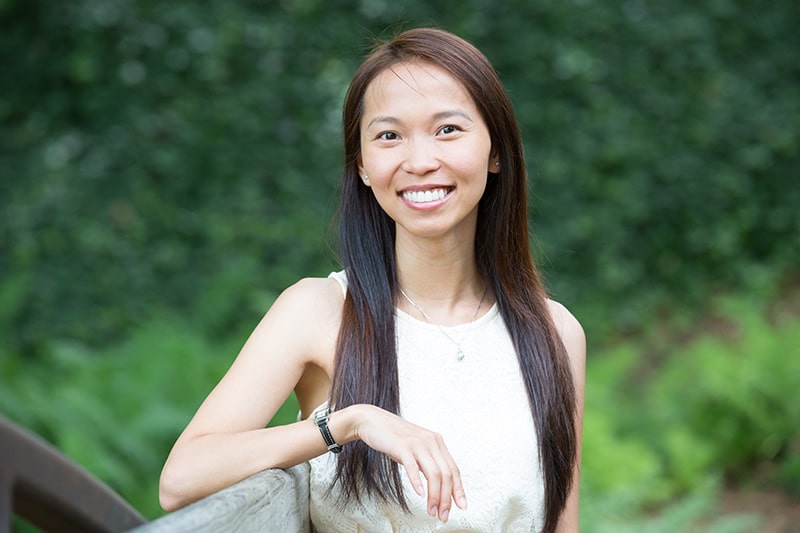 I have always felt that everyone should have good dental hygiene because it's just as important as medical treatment. Since it's so important, I decided I would like to have whatever work done that was needed. It wasn't just for aesthetics, but for my overall health. I was a lot more comfortable and having the work done was easier than I thought with all the new technology Flatrock uses. I felt like I was just going in for a regular checkup and I didn't have pain during the process. I felt like the team was more concerned with my overall health and I didn't have to worry about the results. I was told exactly what was going to be done and the cost. The team at Flatrock is great and that's why I keep referring people over and over again.
Vicki's Case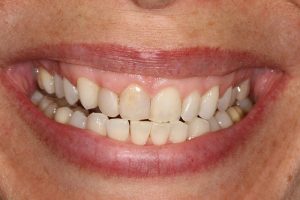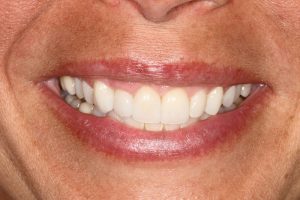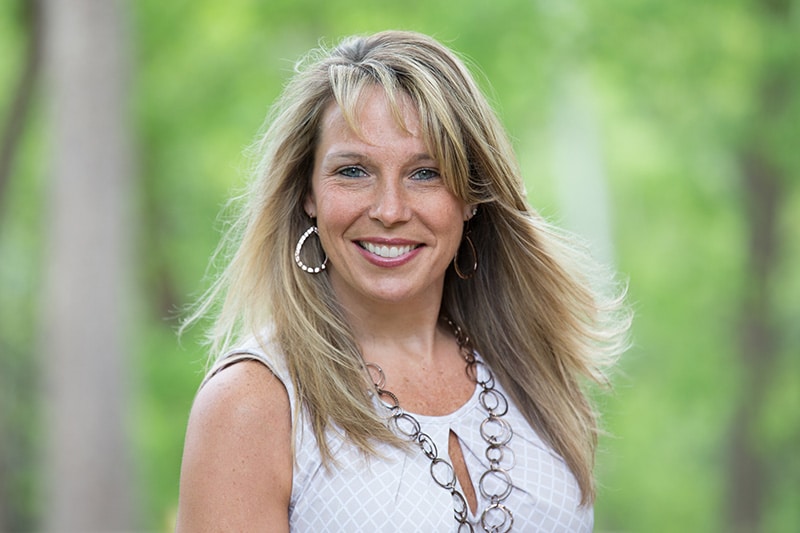 I had an abscessed front tooth when I was 19 and it has progressively turned darker. I've tried bleaching but I still see the discoloring. In addition to this, the other front tooth had a hair line crack, my canine was disproportionately larger and the tooth in between was heavily bonded; so four of my front teeth needed attention. I always notice this in pictures so I turn to the side and try to hide my front teeth when smiling for pictures.
After several months of planning and prepping Dr. Rouse has given me 2 crowns and 2 veneers. I absolutely love my smile now and enjoy showing it at every opportunity.
Our family has been going to Dr. Rouse for six years and love Flatrock Dentistry. They provide excellent dental care and the office staff is wonderful. Professional and expert care from reception to the final check out and everything in between.
Eddie's Case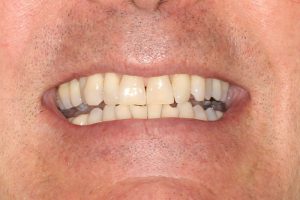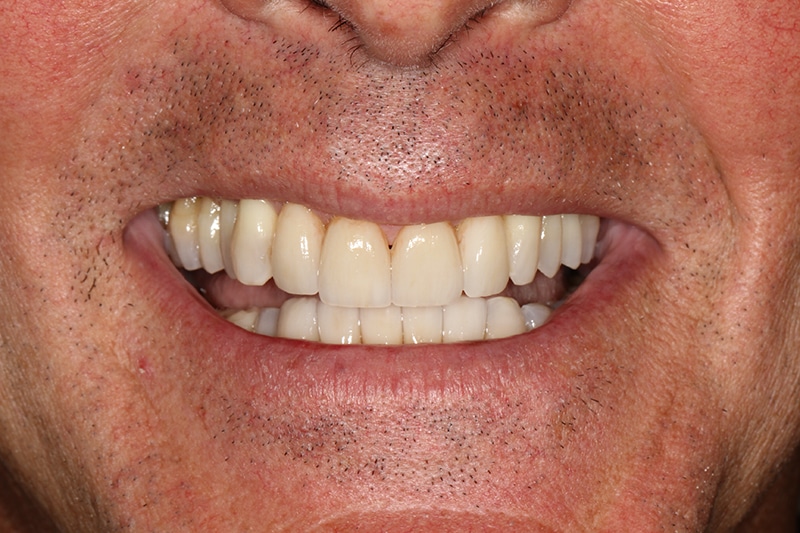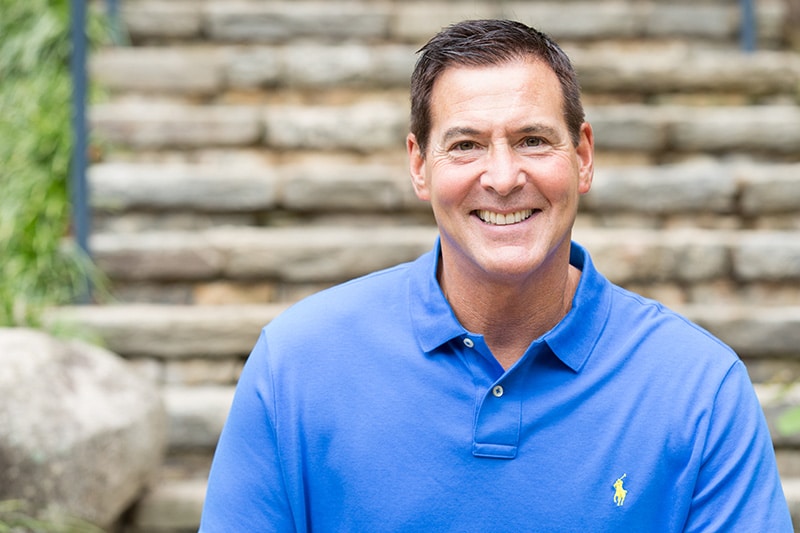 Dr. Rouse from Flatrock Family Dentistry and his staff are the best! They are experienced and professional. I am so much more confident since Dr. Rouse fixed my teeth and made them look amazing. I used to not smile much, but now I can't keep from smiling. They did veneers for my teeth, and I can honestly say that I am SO pleased. My teeth look better than they ever have!
Debra's Case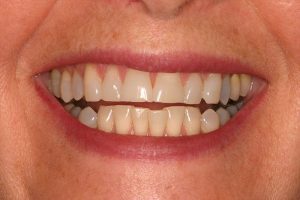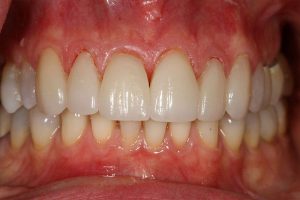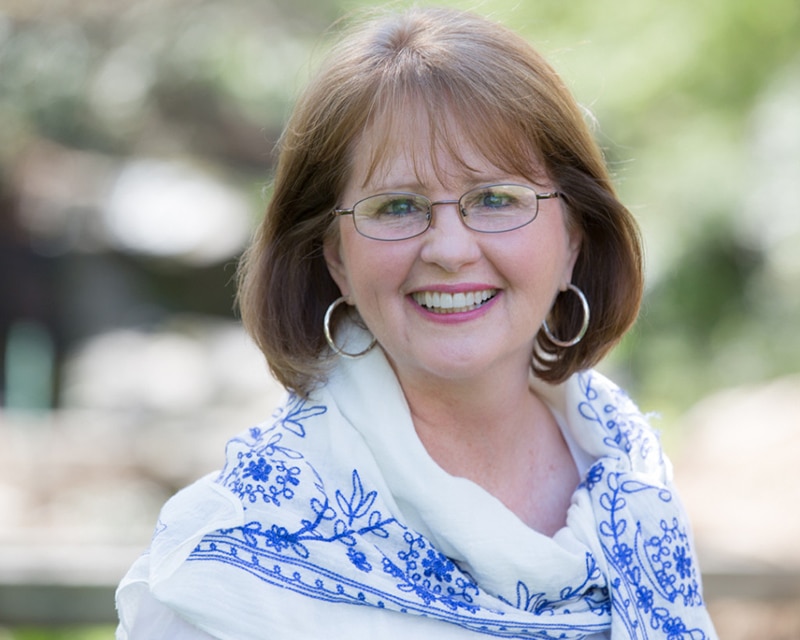 I am thankful for the opportunity to relay my experiences and feelings about Flatrock Family Dentistry. I have been very pleased with all the services I have received there. The front desk is very helpful and pleasant. The hygienist is very thorough. Dr. Rouse is also very thorough and checks for oral cancer and other things that no other dentist has done. He is very gentle and gives pain-free shots! He puts you at ease with his sense of humor and patience.
Dr. Rouse gave me six beautiful upper front teeth! When I was young, right after my front teeth had just come in; I fell on cement and put a big chip on one of my front teeth. The dentist at the time just filed all my front teeth off to match the one broken!! Dr. Rouse has improved my smile greatly. Thank you thank you!!
I refer people all the time to Dr. Rouse's practice. I am VERY grateful that he resides in my community!
Blair's Case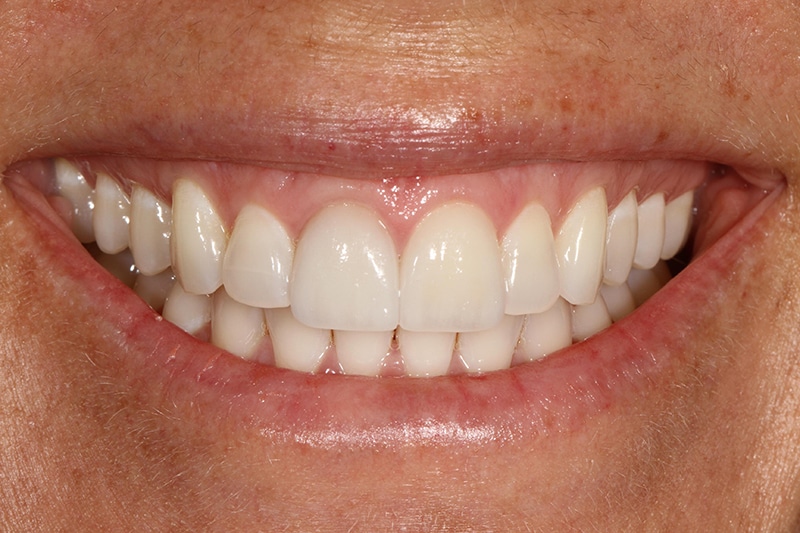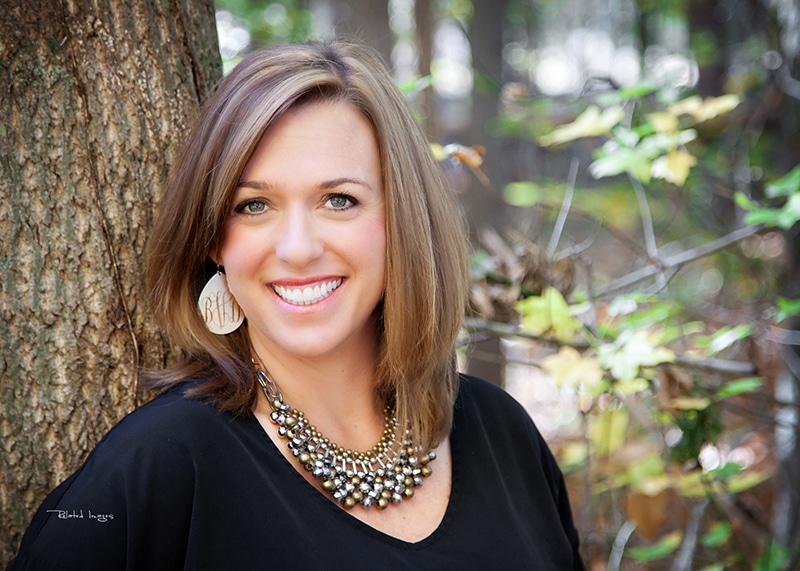 Since I was in high school, I had always hated my smile. A bicycle accident that occurred when I was a child knocked out my front permanent tooth. The crown that was used to repair it was never quite right and was highlighted in every photograph that was taken of me. I came to Dr. Rouse seeking a cosmetic fix to my smile and was not disappointed! His knowledge and attention to even the most minute detail of my tooth and smile were addressed. He was incredibly thorough and went above and beyond to make sure that I was happy with the end result. Thanks to Dr. Rouse and his great staff I love how my smile looks in pictures now!
Belinda's Case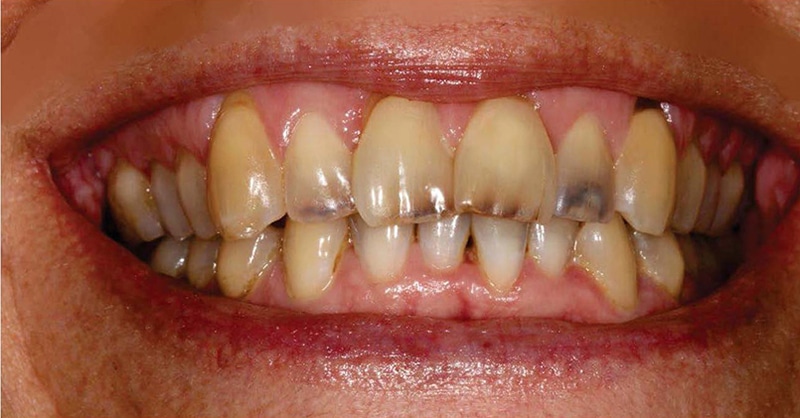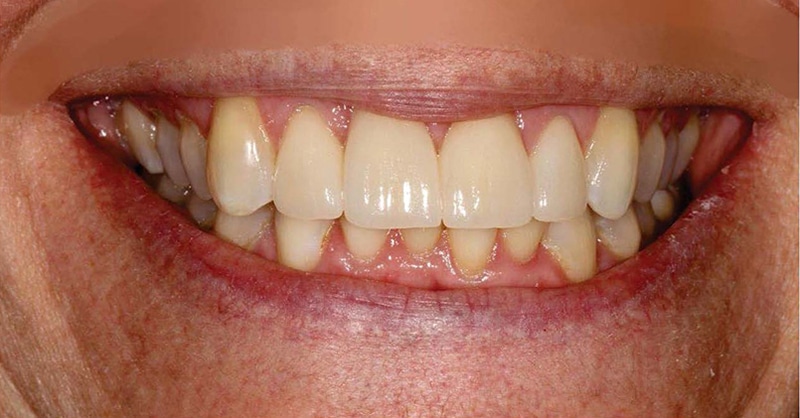 My name is Belinda and I am 55 years old. Going to the dentist was not a priority in my books, but something that I could always do another day. I had a fear of any dental work, which stemmed from early childhood experiences.
About 30 years ago, I was diagnosed with an Auto-immune disease that caused severe dry mouth. I went along with no side effects, or so I thought. When my teeth started to deteriorate, it was a rapid decline that I ignored.
I sought out a dentist that wanted to pull them all and do implants at a cost I could not even fathom. I went a couple of months with this decision hanging over my head. I quite frankly was scared to death of this process.
My children stepped in and told me about their dentist that they had no fears or concerns about going to. They kept saying "just give them a call and I know he can help you out with a better decision".
So I got the courage to make that phone call to Flatrock Dentistry and got an appointment with Dr. Rouse. It was the best thing that I could have ever done.
Dr. Rouse immediately put all my fears to rest and assured me that he could work with my teeth and that it was not necessary to pull them. So we started and finished in about 6-8 months.
I am able to smile again with pride because of all this office did for me. They did more for me than they will ever know. The special care Dr.Rouse and his dental crew gave to me everytime I stepped into that office, knowing my fears, was over and beyond my expectations. They are all heroes to me and my life is better for making the move to Flatrock Dentistry. Thank You Dr. Rouse for making this experience painless and giving me a reason to smile BIG again!!!
Taylor's Case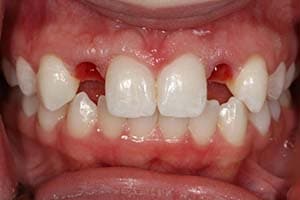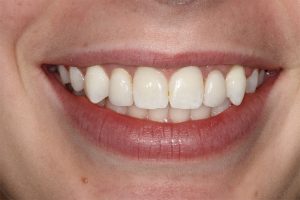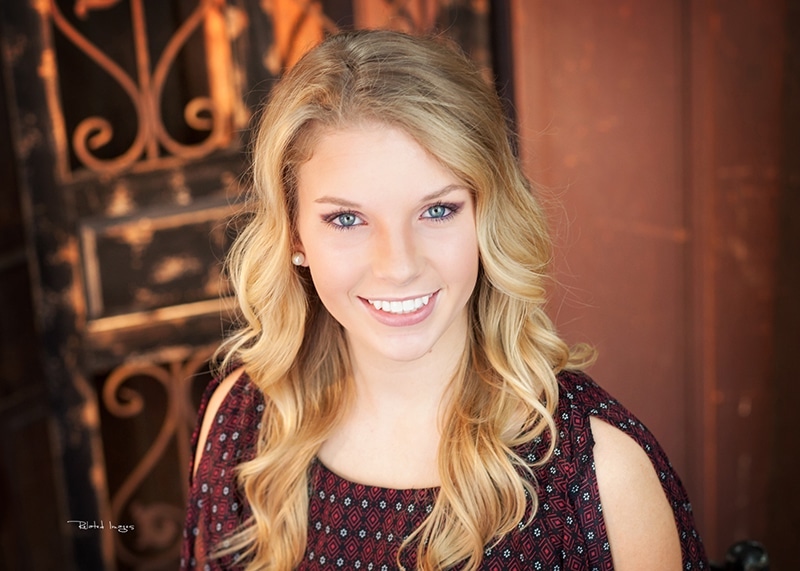 My case has been a process over years, but the outcome is well worth the investment. When I was born something was different about me; I was missing two teeth! It wasn't really a problem until I got older and started to be self-conscious about the gaps in my mouth. That was no problem for the staff at Flatrock. They turned my smile into a beautiful one and now I can smile with confidence!
Beth's Case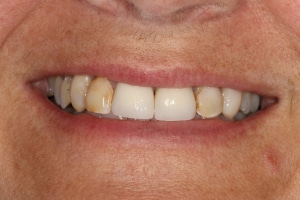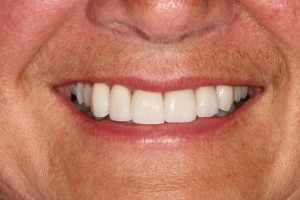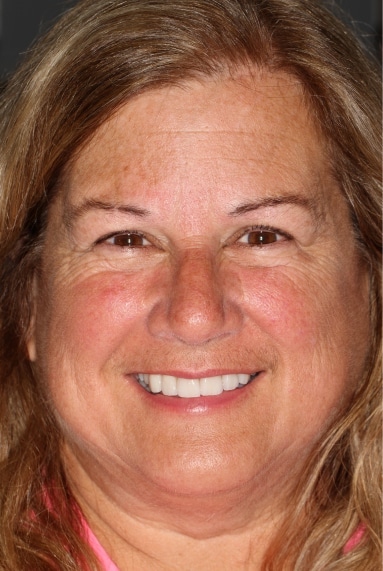 I have been coming to Flatrock for about 4 years. In the beginning, I didn't trust most dentists. I have had some really bad work done. Flatrock Family Dentistry has helped me overcome my fear of going to the dentist! I was very nervous at first, but they were patient with me, explained everything and worked in phases making sure that I was comfortable.
I had gum disease and a tooth that was deemed my "corn tooth". My bite was completely off and several front teeth had been slightly loose for years. Being a teacher, I was upset that I couldn't smile at my students without feeling that I had horrible teeth.
Since completing my treatment at Flatrock Family Dentistry, all of my problems have been fixed and my teeth are beautiful and healthy! I smile all of the time now. My outside appearance finally matches how I feel inside – HAPPY!
Get a brighter smile today!
Contact us now to schedule your appointment and have the smile you've dreamed about!
Get Started