Implant Dentist Proudly Serving Greenville, Simpsonville, Taylors, Greer, Mauldin & Nearby Areas Of South Carolina
There are millions of people who are too embarrassed to smile because of missing teeth. Dental implants are a great way to restore missing teeth and renew self-confidence with beautifully natural results that last a lifetime.
This tooth-replacement treatment provides patients with both incredible cosmetic and oral health benefits. A free consultation with our experienced team of professionals can help determine if dental implant surgery is a good choice for you. For more than 30 years, families in the Greenville, Five Forks, and Greer communities have trusted their smiles to Flatrock Family Dentistry. Call us at (864) 756-5576 to discuss your dental implant options today.
On this page, we will discuss the following information about dental (or teeth) implants available at Flatrock Family Dentistry: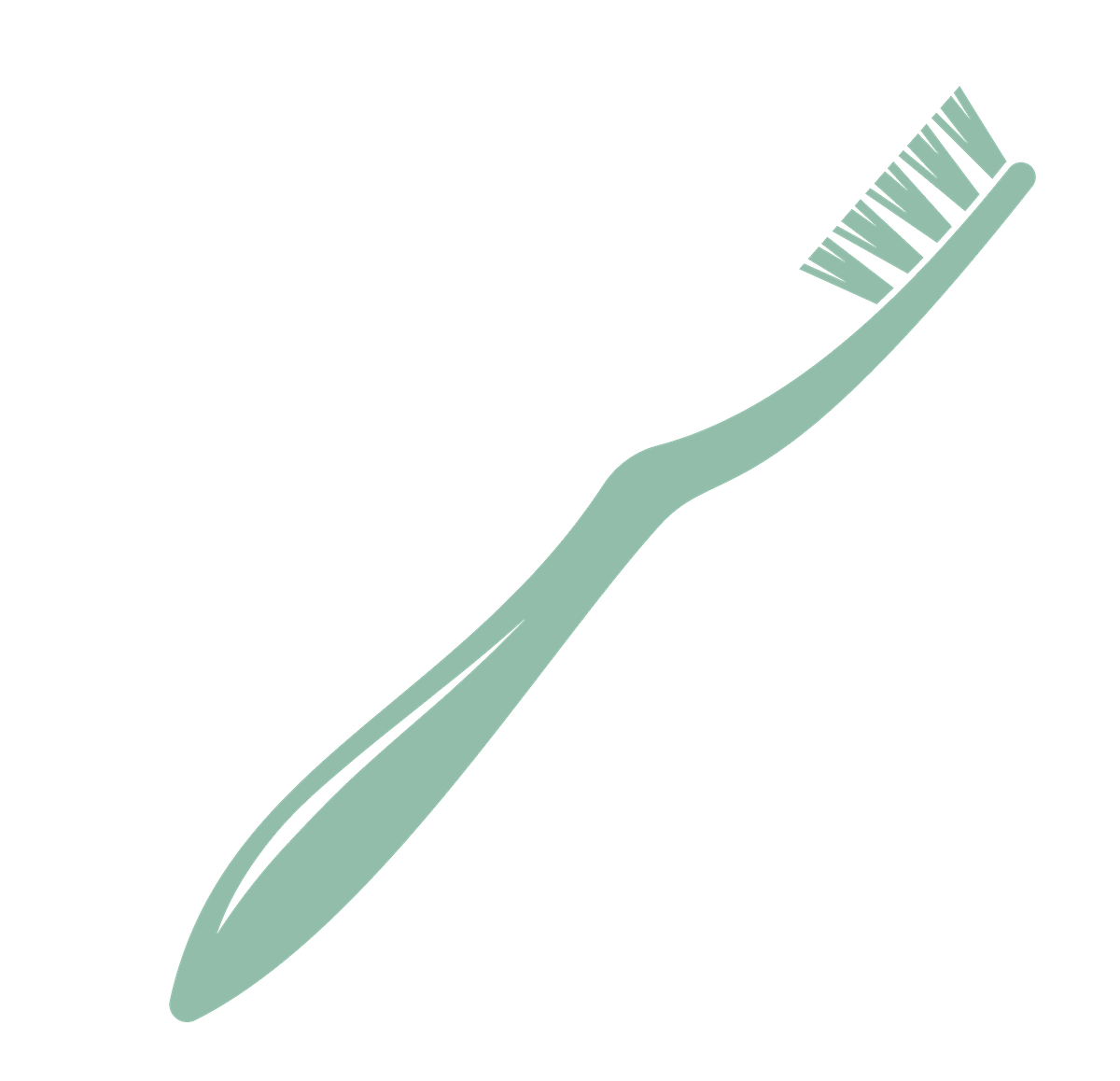 What Are Dental Implants or Teeth Implants?
Dental implants are designed to replace missing or damaged teeth, providing you with both cosmetic and health benefits. Realistic-looking dental crowns or dental bridges are attached to titanium screws securely placed beneath the gums where the roots of the missing tooth used to be. Dental crowns are used to replace single teeth within the mouth. An implant-supported dental bridge or dentures may be used to replace areas of several missing teeth in a row.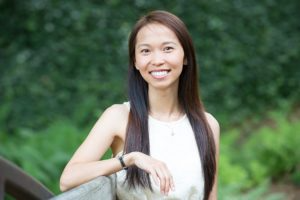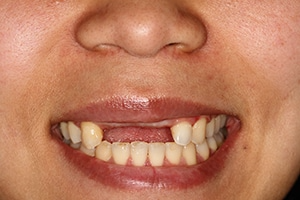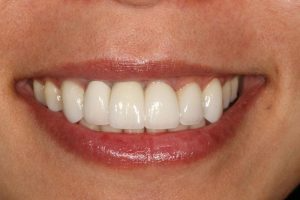 Dental implants consist of three main parts:
The root is a supportive titanium post that is implanted in the bony ridge of the mouth to act as a foundation and secure the implant in place – much like your own natural teeth.
The abutment is a tooth-shaped peg that connects the root to the crown, and may be made of titanium or porcelain.
The crown is the visible part of the implant that is designed to look just like a real tooth. Your implant can be topped with a single crown, or attachable dental bridges or dentures to replace rows of missing teeth.
What Are the Benefits of Dental Implants?
Results that look and feel real. The goal of dental implants is to replace your missing teeth with something that looks and feels as natural as your real teeth – or even better. Unlike with traditional dentures, your implants are securely in place, allowing for a complete restoration of bit tension, strength, and function. No more having to worry about adjacent tooth slippage or having to remove dentures before bed or to eat. You can continue to brush your teeth and eat all your favorite foods just as you would with your own natural teeth.
Improved oral health. Aside from the clear cosmetic benefits, dental implants can provide patients with additional health benefits as well. While missing a tooth can have a significant impact on the look of your smile, the absence of the root can also cause further oral health issues such as a sunken jawbone, receding gums, and weakening of the surrounding teeth. A dental implant not only replaces the missing tooth/teeth, but the underlying roots as well to ensure a smile that is both beautiful and healthy.
Are Dental Implants the Right Choice for Me?
Dental implants are a great treatment option for most people struggling with one or more missing teeth. A personal consultation with our experienced dentists can help determine your best options for restoring a full and healthy smile.
See and read more reviews here!
You may be a good candidate for dental implants if you:
Are missing one or more individual teeth
Are missing a row of multiple teeth
Have strong, bony tissue where an implant must be placed
Have healthy gums
Are a non-smoker or are willing to quit smoking prior to your treatment
Certain chronic health conditions may also create complications with dental implants. Any such conditions must be well under control, and clearance from your primary care physician will be required prior to undergoing dental implant surgery.
In some cases, patients may require bone grafting or orthodontic work prior to a dental implant procedure. However, dental implants are not right for everyone and we may recommend alternative tooth replacement treatments to achieve your goal outcome.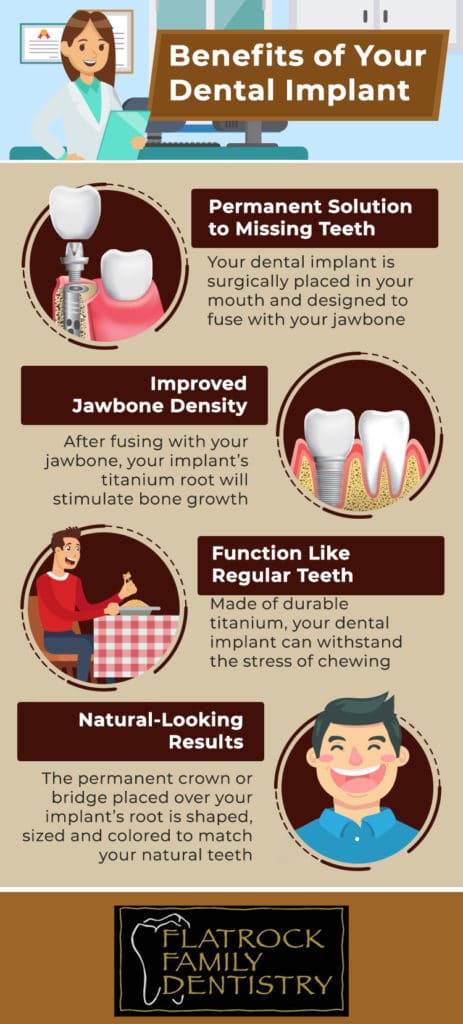 ​
What Can I Expect from the Dental Implant Procedure?
Your dental implant procedure will be performed at our brand new state-of-the-art facility in Greenville, South Carolina.
The basic steps of a dental implant procedure involve:
Surgically placing your implant. Once your implant is designed, it will be placed within your jaw by implanting a titanium root within the underlying bony structure. Most patients will feel well enough to return to work and resume normal activity after just a day or two. NOTE: Some cases may require a bone graft prior to placement of the implant to ensure a secure and strong fit.
Osseointegration. This refers to the process in which the implant fuses with the bone in which it was placed, creating a strong bond and foundation so that the implant will not shift. This will typically take three to six months.
Placement of a temporary crown. Once your placed implant is fully fused to your jaw, a temporary crown (the visible part of the implant) is sometimes attached to the root.
Placing your permanent crown for a realistic and long-lasting result. The final step in the process is to replace your temporary crown with a permanent crown specifically designed for you. This will be shaped, sized, and colored to blend seamlessly with your real teeth for an extremely natural appearance.
Replacing a missing tooth or teeth with dental implants is a gradual process, typically completed within six months to a year and involving several follow-up visits. This timeline will vary depending on your unique condition and the condition of the bony tissue where the teeth are missing.
In some cases where there is plenty of adequate bone available at the implant site, the process may take as little as four months. Other cases may require treatment before implant placement, such as bone grafting or repositioning of the teeth, which would extend the overall timeline.
How Long Are Dental Implants Designed to Last?
Dental implants are designed to provide you with natural-looking, strong-functioning results that last a lifetime. We work closely with each patient to ensure personalized outcomes providing a smile that not only looks beautiful, but feels just as natural as your real teeth.
After your dental implant procedure, it is important to care for your new teeth just as you would normally. You will be able to brush, floss, and eat comfortably without having to remove your teeth as is necessary with traditional dentures. Regular hygiene visits will help to maintain the look of your teeth and your overall oral health.
How Much Do Dental Implants Cost?
The cost of a dental implant procedure varies from patient to patient depending on each individual case. This will greatly depend on the number of teeth missing and how many implants will need to be placed.
Many insurance providers will assist with the investment for dental implant surgery. Please be sure to check with your insurance carrier to find out if your procedure is covered.
We also offer several financing options to help take the stress away from paying for your dental implant procedure.
What Types of Dental Implants Are Available Near Me?
We offer both traditional dental implants as well as implant-supported dentures at Flatrock Family Dentistry. The right option for you will depend on the number and location of your missing teeth, as well as your general oral health.
Available Dental Implants at Flatrock Family Dentistry: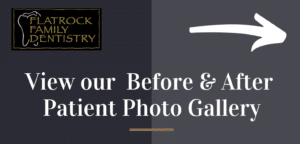 Flatrock Family Dentistry has been proudly serving the Greenville, Five Forks and Greer communities for more than 30 years. Dr. Rouse and Dr. Khan have both completed advanced residency training after dental school which included training in dental implants. They lead a team of professionals dedicated to providing exceptional, comprehensive care in a comfortable atmosphere. We believe in a personalized patient focus and we take the necessary time to understand each individual patient's needs.
Our brand new facility is located in Greenville, South Carolina, offering the most advanced state-of-the-art technologies to ensure the best treatment and experience for our patients. The addition of our low dose CAT scan imaging allows us to visualize the area where the implants are going to be placed in 3 dimensions. This allows precise treatment planning and placement of the implants. In cases where bone grafting is required prior to your dental implant procedure, we are able to perform many types of bone grafting at Flatrock Family Dentistry, including sinus lift surgery, which can be performed by Dr. Khan. We will thoroughly analyze the condition of your teeth and surrounding tissue to determine the best approach for your procedure. If major bone grafting is required, patients may be referred out.
Learn more about why patients have been choosing Flatrock Family Dentistry for more than 30 years.
---
Schedule Your Dental Implant Consultation with Us Today
We love helping our patients achieve their goals of a healthier, more confident smile. To schedule your free dental implant consultation, please give our office a call to speak with a member of our team. Our number is (864) 756-5576. Flatrock Family Dentistry is proud to serve the Greenville, SC Five Forks, and Greer communities of South Carolina.
---