Sedation Dentist Serving Greenville, Five Forks, Simpsonville, Taylors, Greer, Mauldin & Nearby Areas Of  South Carolina
Proper dental care is an important aspect of your overall well-being. Unfortunately, many people put off or completely avoid properly caring for their teeth because of anxiety associated with visiting the dentist's office. This dental phobia often results in a person missing out on the care they need to maintain a beautiful and healthy smile.
We understand this dilemma and want to do our best to ensure each visit is as pleasant and gentle as possible. We offer sedation dentistry, or anesthesia dentistry, to help alleviate any anxiety or nerves that our patients may have when undergoing a dental procedure. Sedation dentistry can be a great option to help make your experience at the dentist more comfortable and less daunting. For more than 30 years, patients have trusted their oral care to the team of professionals at Flatrock Family Dentistry. Give our Greenville office a call at (864) 756-5576 to find out more about your sedation dentistry options near you.
On this page, we will discuss the following information about sedation dentistry options available at Flatrock Family Dentistry:
What Is Sedation Dentistry?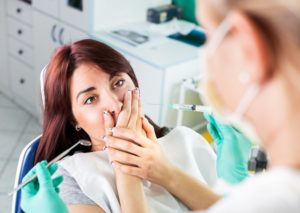 Many people struggle with anxiety or nervousness when it comes to visiting the dentist. For some, this may mean postponing or completely avoiding dental treatments that they need. Sedation dentistry provides these men, women, and children with a solution to their dental anxiety or dental phobia, helping to relax them during their procedure through the use of professional and safe techniques and sedatives.
Each method is safe and effective for a variety of dental procedures, including regular cleanings and examinations and oral surgery (such as wisdom teeth removal). Our team of professionals will carefully monitor you throughout your procedure to ensure your utmost comfort and safety.
What are the Benefits of Sedation for Dental Care?
The greatest benefit of sedation dentistry is that it gives patients the confidence and comfort to undergo the dental treatments they need. In many cases, a person may avoid undergoing a much-needed dental treatment because of anxiety associated with visiting the dentist. This can lead to worsening of minor dental concerns, as well as serious health issues. Our approach to gentle dentistry at Flatrock Family Dentistry establishes a calm and relaxing environment where patients can finally get the dental care and treatments they need without the fear of being judged or being made to feel guilty.
Sedation dentistry can also be a great option for children whether they are afraid of the dentist, experience anxiety due to a negative experience in the past, or simply to help tolerate certain dental treatments. The most common type of sedation dentistry for children is nitrous oxide, or laughing gas, which is also the mildest form of sedation.
Who is a candidate for Sedation Dentistry?
In general, sedation may be right for you if you experience any of the following:
Lots of fear and anxiety when you are in the treatment chair
Excessively sensitive gag reflex
Past negative experiences with other dentists
Difficulty getting properly numbed for dental procedures
An especially long dental appointment that is likely to cause restlessness
Additionally, children can benefit from mild, non-addicting "laughing gas" if they have a lot of trouble staying still for the duration of a long appointment, or if they are getting a dental treatment that may be uncomfortable.
Our dentists and staff will make sure you meet other candidacy requirements. You can't be allergic to any of the sedation ingredients. We'll review any medical history or medical condition that may make you a poor match for sedation.
Is Sedation or Anesthesia Dentistry Right for Me?
Sedation dentistry can be used to create a more comfortable experience for men, women, and children who struggle with dental anxiety or phobia. The right option for you will depend on your unique case, and the type of dental procedure you will be undergoing.
We offer the following methods of sedation dentistry at our state-of-the-art facility in the Greenville area.
Nitrous Oxide (Laughing Gas)
Nitrous oxide, also commonly known as laughing gas, is the mildest form of dental sedation. Nitrous oxide is a non-addictive sedative that helps patients feel relaxed and at ease during their dental treatment. This is the most popular method used for children, but is also an effective tool for adults who struggle with dental anxiety. In cases where children may require more complex work or stronger sedation, we will refer you to a pediatric dentist.
Nitrous oxide is administered as a gas through a comfortable mask worn just over the nose. Within a few minutes of breathing through the nosepiece, you will begin to feel the subtle, relaxing effects of the sedative. Nitrous oxide is safe for use with dental procedures ranging from regular hygiene visits to more complex treatments.
Once your treatment is complete, oxygen will be delivered through the nosepiece to quickly fade the effects of the nitrous oxide. Within a matter of minutes, you will feel back to normal and will be able to drive yourself home.
Oral Conscious Sedation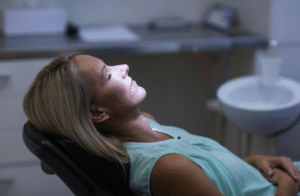 Oral sedation is used for longer appointments, or for patients who are wanting a stronger sedative than nitrous oxide. With this method, you will be given a pill to be taken before your dental procedure. This will help to create a calm, anxiety-free experience throughout your treatment.
This form of sedation is recommended for patients with dental anxiety or phobia who:
Prefer an alternative to nitrous oxide
Have sensitive teeth or gums
Will be undergoing a longer treatment or multiple procedures in a single visit
Have a fear of needles
Unlike with nitrous oxide, oral sedation will have some lingering effects from the sedative. You will need a loved one to drive you home following your procedure.
What dental procedures can I use sedation for?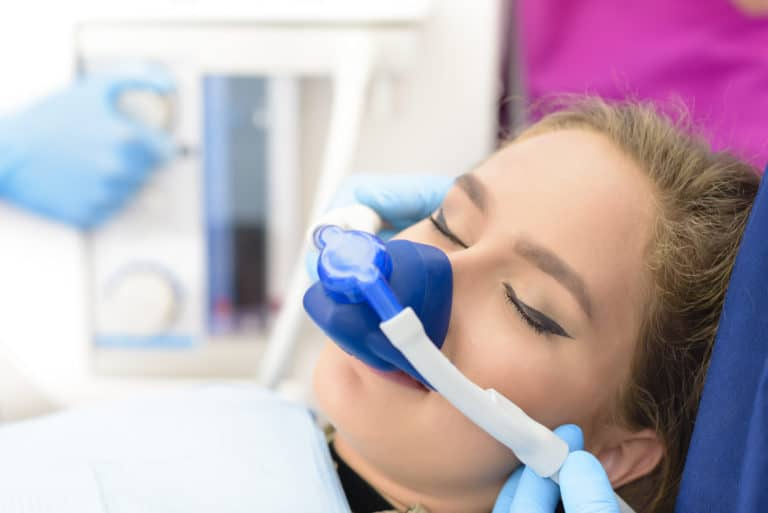 Sedation is most often utilized for oral surgery or generally more invasive dental procedures, such as:
Root canal therapy
Emergency dental procedures
However, sedation may be used for other procedures and routine treatments as well, including dental filling procedures. Ask our dentists whether sedation is right for your treatment plan.
Is Sedation Dentistry safe? Are there any risks or side effects?
When provided by qualified, experienced dentists, these sedation methods are generally safe for good candidates. Nitrous oxide dissipates quickly, almost immediately as soon as you stop breathing it, so there aren't any side effects associated with it. Oral sedation tends to make you groggy for the rest of the day, so you'll need someone to drive you home.
How long does the sedation usually last?
Laughing gas wears off very quickly once the breathing mask is removed. For conscious sedation, you will feel groggy for several hours or so. Many people start feeling more normal by that evening, but you should allow yourself a full 24 hours to fully recover from the lingering effects of these types of sedation.
What Can I Expect During My Sedation Dentistry Procedure?
Your experience will vary depending on the type of sedation used for your procedure. Patients undergoing oral sedation will need to avoiding eating or drinking anything for six hours prior to their treatment.
During your treatment on nitrous oxide, you will be fully conscious, but will feel relaxed and calm throughout your treatment. Once your treatment is complete, you will feel back to your normal self in just a matter of minutes.
Patients undergoing oral sedation will also be conscious during treatment. However, it has been known to have an amnesiac effect, to which you may recall very little to nothing about your appointment. Following your procedure under oral sedation, you will likely feel sleepy and will feel numbness around the mouth area. You will also need someone to drive you home after treatment.
Patients undergoing oral sedation may also be required to take additional medications following their treatment.
What Options for Sedation Dentistry Are Available Near Me?
The most common types of sedation dentistry are nitrous oxide (also commonly known as laughing gas) and local oral sedation. The right type of sedation for you will depend on your unique case and the type of procedure being performed. We perform these two types of sedation dentistry at our brand new state-of-the-art facility in Greenville, South Carolina.
Is there any recovery involved with Sedation Dentistry?
There is no recovery from nitrous oxide. You will be able to get back to your day soon after your appointment.
Plan to have someone drive you home and stay with you for at least 24 hours after oral conscious sedation. It may take a full 24 hours for the residual effects of these drugs to wear off.
Why Choose Flatrock Family Dentistry for Sedation Dentistry?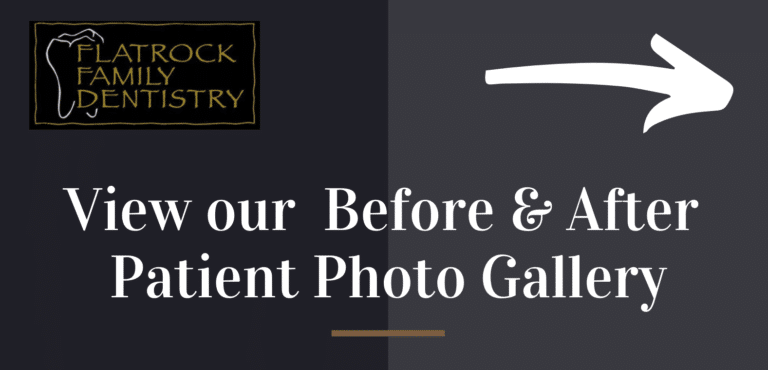 Flatrock Family Dentistry has been proudly serving the Greenville and Five Forks community for 30 years. Dr. Rouse and Dr. Khan lead a team of professionals dedicated to providing exceptional, comprehensive care in a comfortable atmosphere. We believe in a personalized patient focus and we take the necessary time to understand each individual patient's needs.
Our brand new facility is located in Greenville, South Carolina, offering the most advanced state-of-the-art technologies to ensure the best treatment and experience for our patients. We currently offer two major forms of sedation dentistry, including nitrous oxide (laughing gas) and oral sedation. At Flatlock Family Dentistry, your comfort and safety is always a top priority and we will work with you to ensure the best possible experience with every visit to our office.
What is sedation dentistry?
Sedation dentistry is a method we use for patients who are nervous about dental procedures. It's not about knocking you out, but it provides a relaxing sedation that makes you feel good and unconcerned about what's happening. The aim is to help you receive the care you need comfortably.
Why is sedation dentistry effective?
Sedation dentistry is effective because it helps patients who are too nervous to relax during their dental appointments. Some patients are so anxious that they avoid going to the dentist altogether. Sedation dentistry helps overcome this fear and allows patients to comfortably attend their appointments, knowing they won't have to worry about feeling or smelling anything during the procedure.
Sedation dentistry can also be beneficial for patients undergoing extensive procedures that require long periods in the chair. Regardless of whether it's for 30 seconds or several hours, the patient will remain relaxed throughout the procedure.
How safe is oral sedation?
Oral sedation is very safe. We monitor patients' vital signs, like blood pressure and oxygen levels, throughout the procedure. The medicines we use are safe and have a high tolerance level.
What are the different types of sedation available?
Sometimes it just starts with good communication, and we also have massage chairs, headphones, and TV for distraction. As for sedation, we provide nitrous oxide (laughing gas) and oral sedation. The type of sedation used depends on the individual's comfort level and needs.
What can patients expect during oral sedation?
During oral sedation, patients can expect to feel relaxed. While they may respond to our instructions during the procedure, they often don't remember much about what happened.
Is sedation required for tooth extraction or implants?
Whether sedation is required for tooth extraction or implants depends on the patient. Some people prefer not to remember much about the procedure, in which case sedation would be beneficial.
Is sedation dentistry painless?
Sedation dentistry makes the process of getting numb and the procedure itself more comfortable for the patient. The patient's muscles are more relaxed, which leads to a better post-procedure experience.
What are the side effects of sedation dentistry?
The most common side effect of sedation dentistry is fatigue, with most patients needing a nap after the procedure. We always review patients' medical history and any medications they're taking before administering sedation to ensure safety.
How can patients request sedation dentistry?
If you're interested in sedation dentistry, just ask your dentist. They can answer any questions you may have and determine whether this approach would be beneficial for you.
---
Schedule Your Consultation for Sedation Dentistry with Us Today
Our goal is to provide each of our patients with beautiful results and unmatched care. To schedule your personal consultation, please give our office a call to speak with a member of our team. Our number is (864) 756-5576.
Flatrock Family Dentistry serves patients in Greenville, Mauldin, Five Forks, Taylors, Greer, Simpsonville and nearby areas in South Carolina
---