Dentist Serving Greenville, Simpsonville, Five Forks, Taylors, Greer, Mauldin & Nearby Areas Of  South Carolina
When a tooth is severely damaged or decayed, the inner pulp of the tooth can become infected or develop an abscess. If the infection isn't treated, it can result in a variety of serious issues, including bone loss near the tip of the root or drainage problems by the root. In these situations, a root canal is often needed to remove the infected portion of your tooth and restore proper levels of oral health.
Endodontics is the field of dentistry that governs issues associated with dental pulp and the tissue adjacent to your tooth's root. Root canal treatment is the most common endodontic procedure performed, and it is often crucial to your ability to salvage an infected or abscessed tooth.
Dr. Rouse and Dr. Khan both have training in root canal treatment. Whether it's a scheduled appointment or an emergency situation, Flatrock Family Dentistry can provide the endodontic service you need. Please call (864) 756-5576 today to schedule an appointment.
Symptoms of an Infected or Abscessed Tooth
In many instances, you won't notice any symptoms until the infection or abscess has become serious. If you're experiencing any of the following symptoms, it may be a sign that you need a root canal:
Prolonged sensitivity when your tooth is exposed to hot or cold temperatures
Severe tooth pain when you're chewing
A recurring pimple on your gums
Tooth discoloration
Swollen or tender gums near the site of infection
When is Root Canal treatment necessary?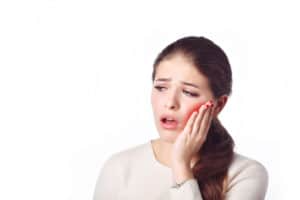 At Flatrock Family Dentistry, we realize that you may have some anxiety about undergoing a root canal. Fortunately, there is no reason for concern. The pain you're experiencing from the infected tooth is much more severe than the discomfort associated with your procedure. In fact, root canal treatment is actually very comfortable and associated with minimal, if any, pain.
More importantly, without a root canal, the infection will continue to get worse. This will cause additional pain and increase your risk of other oral health issues. By performing a root canal, you will avoid the need to extract the infected tooth. Extracting a tooth will require an additional procedure to provide a replacement such as a dental implant or bridge in order to restore a functional bite. By saving your natural tooth, a root canal also provides the most cost-effective treatment option.
PATIENT REVIEWS
"I cannot say enough about this practice, as being a coward, I am always at ease and am able to have my dental work done by Dr. Rouse. He is the best dentist that I have ever met. I have had a few procedures done and never feel any pain or discomfort. The entire staff is so caring and not judgmental at all. I am always made to be and feel very comfortable. Thank you." – T.D.
Your Root Canal Procedure
Your root canal treatment can be completed in two office visits. During your first appointment, our dentists will numb the treatment site and place a rubber dam around the infected tooth to keep it protected, isolated and dry. We'll create an opening at the top of the tooth crown, allowing us to access the infection in the pulp chamber. Tiny instruments are used to remove all harmful bacteria and infected tissue. Medication is administered in the root canal to eliminate any remaining bacteria and prevent the infection from recurring. Finally, a temporary filling or dental crown is placed in order to protect your tooth while it heals.
When you return for your second office visit, our dentists will remove the temporary restoration and clean out the pulp chamber to remove any remaining infected tissue. The root canal is filled with a special sealant paste and a filling material.
Once your tooth has fully healed, you'll return to our office for follow-up appointments. During these visits, we'll provide a permanent restoration to protect and strengthen the tooth. Depending on your unique situation, we may recommend one of the following solutions:
Contact our Greenville, SC Dentists today
Please reach out to Flatrock Family Dentistry using the online contact form on this page or call (864) 756-5576 today to schedule an appointment.