Gum Disease Dentist Serving Greenville, Five Forks, Simpsonville, Taylors, Greer, Mauldin & Nearby Areas Of South Carolina
Gum tissue plays an important role in the health and beauty of your smile. Periodontics is the area of dentistry dedicated to maintaining the health of the gums, as well as providing treatment for gum disease.
When you visit Flatrock Family Dentistry, Drs. Rouse, Khan and our team will evaluate you for symptoms of gum disease and recommend treatment options to improve your oral health. Call (864) 756-5576 today for your next appointment.
What Is Gum Disease?
The term "gum disease" actually encompasses two separate conditions. Gingivitis is an early forerunner of gum disease. If you have gingivitis, you may experience symptoms such as:
Inflamed gum tissue
Gums that look red and irritated
Bleeding from the gums when brushing or flossing your teeth
With diligent brushing and flossing, a healthy diet and lifestyle, and regularly scheduled dental cleanings and exams, you may be able to reverse gingivitis and take back the health of your gums long-term.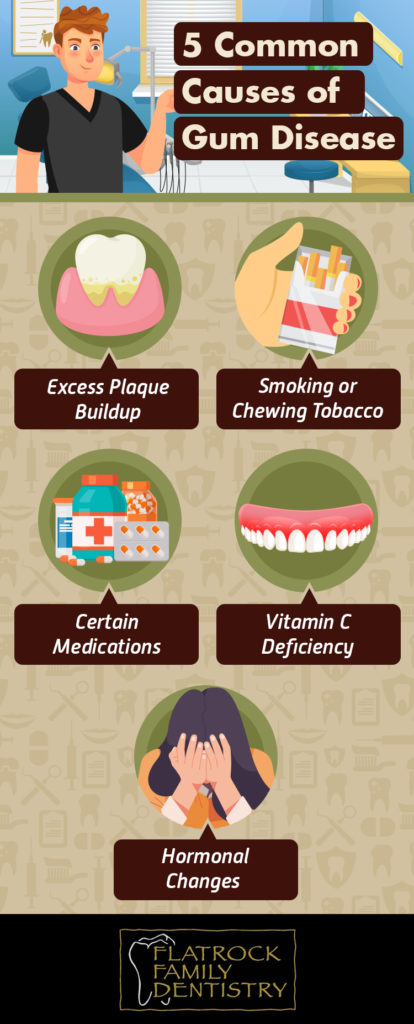 However, ongoing poor oral hygiene increases the risk of periodontitis. More than just the inflammation we see with gingivitis, periodontitis presents an imminent threat to the health of your gums and teeth. Symptoms may include:
Swelling of the gums
Red or purple appearance to the gum tissue
Pain and tenderness
Easy bleeding
Receding gums; as the gum tissue pulls away from the teeth, pockets can form that increase the risk of serious infection
Difficulty chewing
Halitosis
Changes to your bite
If periodontitis is left unchecked, you may notice that certain teeth begin to feel loose. This is because untreated infection beneath the gum line weakens the bone and other structures that hold teeth in place. The bone loss can eventually cause teeth to fall out.
The impact of gum disease doesn't end with the health of your smile. Clinical research suggests that patients with unmanaged periodontal disease are at increased risk of serious health conditions such as heart disease.
Treatment Options for Gum Disease
Preventative care is the best treatment for gum disease, as it stops oral health issues before they start. Diligently brushing your teeth removes plaque at the gum line, while flossing every day helps reduce plaque buildup in between the teeth where your toothbrush can't reach.
In addition, when you visit Flatrock Family Dentistry for your six-month cleaning, our hygienists and dentists will closely evaluate the health and appearance of your gums. The professional cleaning is a thorough complement to your at-home hygiene, and our team can provide recommendations if they see signs of gum inflammation, recession, or disease.
In the event that you're already suffering from gum disease, our dentists may recommend a course of antibiotics. The medication is designed to reduce the bacteria residing in dental plaque, thus relieving the infection associated with periodontitis.
Another gum disease treatment option is scaling and root planing. Performed using specialized dental instruments or with our soft tissue laser, scaling is akin to a deep cleaning of the teeth that proceeds below the gum line. This procedure is an effective method for removing bacteria from the pockets that form as a result of gum recession.
Root planing removes plaque build from the roots of the teeth and creates a smooth surface. This makes it more difficult for bacteria to build up beneath the gums.
Other treatment options, such as bone and soft tissue grafts, are generally reserved for extreme cases of gum disease and require the services of a periodontist or other specialist. Our dentists will evaluate your gums and provide recommendations for reclaiming your oral health.
Contact Flatrock Family Dentistry for Periodontal Care Today
Your teeth and gums work together to keep your mouth healthy and your smile looking its best. If your gums bleed easily or you have other issues with your periodontal health, it important to schedule an appointment with our dentists as soon as possible to reduce plaque and minimize damage from gum disease.
Please call (864) 756-5576 or fill out our online form here to schedule your periodontal health consultation. Our dentists and professional staff will treat you with courtesy and respect, with an emphasis on improving the condition of your gums and teeth.