Your smile says a lot about you. If you have straight, sparkling white teeth that you're proud to show off, you can exude confidence and project an assured image. Conversely, if you hide your smile because you're unhappy with the look of your teeth, you may come across as shy, unfriendly, or insecure.
In a world of short attention spans, first impressions are everything. If you're hiding your smile because you're afraid of how it looks, that could affect how people you meet perceive you. It can negatively impact your professional, social, and romantic interactions.
At Flatrock Family Dentistry, we have helped the Greenville community overcome those issues for more than 30 years. Many families have trusted us with their dental care for generations. Our board-certified cosmetic dentists, Dr. Christopher J. Rouse and Dr. Khan, have completed advanced residencies and continually educate themselves on the most advanced dental techniques, procedures, and technologies.
By combining state-of-the-art treatments with our down-home, family atmosphere, Flatrock Family Dentistry is able to offer the highest standard of cosmetic dentistry. We serve Greenville, Five Forks, Greer, and surrounding areas of South Carolina. Call (864) 756-5576 today to schedule a consultation.
What is Cosmetic Dentistry?
Cosmetic dentistry is the practice of using dental medicine to improve the appearance of your teeth. Its goal is to give you a smile that you're proud to show off. Common cosmetic dental problems we treat at Flatrock Family Dentistry include:
Tooth discoloration
Mottled or ribboned enamel
Chipped, cracked, or broken teeth
Crooked teeth
Uneven tooth shapes and sizes
Gaps between teeth
Missing teeth
Gum tissue issues
Our Cosmetic Dentistry Services
We offer numerous cosmetic dentistry treatments for our Greenville patients, including:
What is the Difference Between Cosmetic Dentistry and General Dentistry?
General dentists fix issues related to oral pain, discomfort, and hygiene. Often, problems need to be treated with a combination of general and cosmetic dentistry to address health concerns, then make your mouth look aesthetically pleasing. At Flatrock Family Dentistry, we offer general in addition to cosmetic dentistry. Our services include:
Dental exams
X-rays
Oral cancer screenings
Fluoride treatment
Root canals
Tooth extraction
Cavity fillings
Teeth Whitening
Teeth whitening is one of the most popular cosmetic dentistry procedures we perform. Our in-office teeth whitening treatments typically take less than one hour and deliver results far beyond what you could expect from over-the-counter whitening kits.
The teeth whitening procedure involves:
Relaxing in a dental chair
Customizing the shade of whiteness to achieve the look you want
Applying a protective gel around the edges of your teeth and gum tissue
Treating the fronts of your teeth with the whitening gel
Removing the protective and whitening gels from your teeth
That's it. You'll walk out of our office with a dazzlingly white smile. We also offer professional-grade, take-home whitening strips that also far outpace over-the-counter teeth whitening treatments in effectiveness.
Invisalign®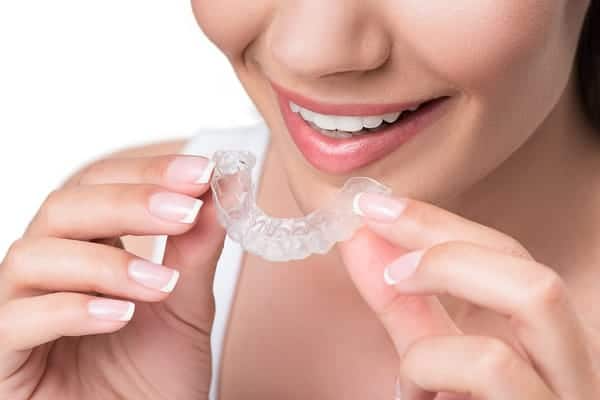 As embarrassing as crooked and misaligned teeth can be, traditional metal braces aren't too far behind. They can be painful, tight, unsightly, irritate your gums, and limit the foods you can eat. For many adults, the social stigma of wearing these makes them a non-starter. Invisalign gives you an alternative besides wearing those humiliating braces or suffering a smile-less existence without them.
Invisalign uses transparent, custom-fitted plastic shells to gradually straighten your teeth. In addition to being barely noticeable, they are completely removable when you need to eat or brush your teeth. Invisalign can correct issues such as:
Overbite
Underbite
Crossbite
Open bite
Crowding
Gaps
Porcelain Veneers
Porcelain veneers are thin shells of enamel that are placed on the front of your teeth. They are reliable, durable, and natural-looking tooth-repair options that can address issues such as:
Tooth discoloration
Cracked and chipped teeth
Crooked teeth
Gaps between teeth
During your first porcelain veneer appointment, our dentists will make an impression of your teeth, then send that mold to the lab that will create your veneers. It takes about two weeks to make them. They'll be customized to match the shade of your surrounding teeth. In the meantime, you'll be fitted with temporary restorations.
During your next appointment, your veneers will be placed on your teeth. Once they're in place, they'll be bonded. With proper oral hygiene, your veneers can last 10 years or more.

See our Before & After Photo Gallery
Dental Implants
Implants are a semi-permanent solution to missing or damaged teeth that give you both cosmetic and health benefits. The implant process is long and involved, but for many patients, the self-confidence and health benefits that it brings are worth it. Getting dental implants involves:
A titanium root is surgically implanted into your jawbone. This will anchor your tooth and act as a natural root would. Tooth decay can weaken your jawbone, so the root implantation is essential to your future oral health.
The titanium root will fuse with your jawbone through a process called osseointegration. This can take between three and six months.
Once your root is fused, you'll be fitted with a temporary crown while your permanent one is being made. As with porcelain veneers, implant crowns are customized to match the size, shape, and color of your surrounding teeth.
When your permanent crown is ready, it will replace your temporary one.
If you maintain a proper oral health care regimen, your implants can last a lifetime.
Crowns and Bridges

Crowns are used to completely cover a tooth that's been damaged through decay, grinding, or trauma. They help absorb the impact forces of chewing and promote better oral health by limiting the additional damage your tooth can suffer.
We offer crowns as a same-day procedure that takes about 90 minutes. You'll relax while we create your custom porcelain crown, then carefully place it on your tooth. While many dentists use unsightly metal crowns, we prefer porcelain because it can be customized to look like your natural teeth.
Dental bridges are designed to restore areas with multiple missing teeth, using dental crowns or implants to support the replacement teeth. Crowns will be placed on the teeth on both sides of the gap to support the bridge. Besides the cosmetic benefits of replacing those teeth, bridges also support the surrounding teeth and prevent them from shifting or moving. Bridges and crowns can last five to 10 years if you care for them properly.
Tooth Wear
Over time, numerous actions can cause your teeth to wear down. Consuming acidic food and drink, teeth grinding, and improper oral hygiene all contribute to tooth wear. If you experience this, it may lead to issues such as cavities and gum disease.
We offer many treatments for tooth wear, including:
Crowns
Veneers
Dental bonding
Night guards
Cracked Teeth
A cracked tooth is more than just painful and embarrassing. Cracks that are left untreated can expand and necessitate the removal of the tooth. In worst-case scenarios, they can become infected.
Cracked teeth are often hard to notice. Sometimes, the crack is so small that you can't see it with the naked eye. It may be so minuscule that it doesn't even show up on X-rays. The most commonly cracked teeth are the back molars because they absorb the majority of your biting force.
Most of the time, a crack can be treated with a simple filling or crown. However, if it expands beyond the gum line, the tooth may have to be removed. That's why detecting cracks early is imperative.
The Flatrock Family Dentistry Difference
At Flatrock Family Dentistry, we have proudly served Greenville and surrounding South Carolina communities for more than 30 years. Our dentists, Dr. Rouse and Dr. Khan, both completed advanced residency training after dental school that included training in many forms of cosmetic dentistry.
See and read more reviews here!
In January 2019, we opened a new state-of-the-art facility that offers some of the most advanced oral-health technology available, including:
Oral cancer screenings
Same-day crowns and bridges
Advanced 3D imaging
Laser cavity detection
Digital X-rays
Low-radiation-dose CAT scans
We combine our advanced technology with an old-school, people-first approach. At Flatrock Family Dentistry, our patients are our family. Every person who comes into our practice is treated as a unique individual with unique needs, and everyone receives unique treatment. We are dedicated to making your experience as safe and comfortable as possible while delivering the results you want.
Schedule Your Greenville Cosmetic Dentistry Consultation Today
If you're unhappy with the look of your smile, you could be just one phone call away from attaining a grin you want to show off to everyone you meet. Your new smile could open a whole new social, professional, and romantic world.
We serve Greenville, Five Forks, Greer, and surrounding areas of South Carolina. Call (864) 756-5576 today, or use our online contact form here to schedule a consultation.
Back To Top